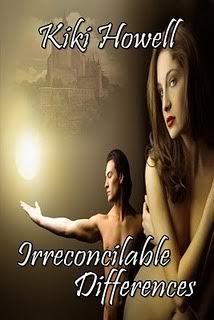 Irreconcilable Differences
Author: Kiki Howell
Publisher: Excessica Publishing
ISBN: 0012668249
Purchase Information:
Amazon | Barnes & Noble
*Novel provided by the author via Bewitching Book Tours
For more information please visit Kiki Howell's website.
In a world where wizards and sorcerers do not get along due to differences in their magic, the sorcerer, Aaron is hired to guard the wizard, Myleana. However, the attraction between them once locked in an unusual lab under his own wall of protection ignites in otherworldly ways.
When they come under attack and all they believed in becomes questionable, will these two remain separated by their world's prejudices? Will the lies, betrayals and opinions of even their own families stand in the way of the alchemy of sex, especially when sorcery and wizardry come into play?
Irreconcilable Differences
by Kiki Howell was a DNF for me, something that I feel really bad about especially considering that this is something that I requested to read, not to mention participate with in a blog tour. But, the more I tried I just couldn't get in to this story.
First, the world building and descriptions were very jumbled to me. I couldn't get a sense of the atmosphere or the locale and the actions just seemed a bit confused. It was almost like Howell could see what was happening in her mind, but it just didn't come across in the writing quite right. This is usually something I'm able to overlook because sometimes novels just start off a little rocky as authors introduce their characters and their world and instead I focus on the characters themselves.
In this case, however, that only led to more of a disconnection for me as I couldn't even get a read on the personalities of the characters. In truth, I even found myself not really liking them. From their first meeting they're a little antagonistic, not something that usually throw me off, but in this case it was underwritten with an immediate sense of lust. Again, not something the usually dissuades me. But, in this case, it just felt completely wrong and contrived instead of organic, natural.
And after a few chapters I just couldn't do it. I could not pull myself in to this world. Admittedly, it could have gotten better and I am fully able to say that I might not have given this novel a fair chance for whatever reason. Maybe it was just one of those times where I wasn't in the mood for this particular type of novel or relationship. I don't know. And in the name of being fair there have been some decent reviews, so again, maybe this was just me.
My Rating: 1 out of 5 Scars