The Vampires of Vampires in America
by D. B. Reynolds
 
There are a lot of vampire stories out there; every author puts her own spin on the mythology. And I'm always getting asked … what are my vampires? What are they like?

Now Available!

So, let's start with first facts. And the firstest fact of all is … my vampires aren't, and never have been, dead. I know many writers begin with the idea that vampires are dead, and I know the traditional mythology has them as dead and risen from the grave. And I love many of those books, too. But for me, risen from the dead smacks of zombie, and I don't want to worry about bits and pieces falling off my lover, even if they're not the important ones (and especially if they ARE.) Which means my vamps are very much alive. Their hearts beat and their lungs take in oxygen and put out carbon dioxide. What makes them Vampire is something like a symbiotic virus that invades their bloodstream and alters their bodies to suit its needs. They do sleep through the day, because the "virus" demands it. And no one knows exactly how it works or exactly what it is, because vampires aren't eager to share the special qualities of their blood with human scientists. As Rajmund told Sarah, if humans ever discovered the full benefit of vampire blood, vampires would soon be rounded up and imprisoned as permanent blood donors for wealthy humans. Because vampire blood not only bestows vastly enhanced speed, strength and all five senses, it also includes rapid healing. Which means they're very hard to kill and, most importantly from a human standpoint, they don't age. No wrinkled skin, no fading eyesight, no lost muscle tone … no death.
Also, my vamps don't shrink away from crosses or sizzle when touched by holy water. What made them Vampire has nothing to do with morality or spirituality of any kind, so none of the usual religious symbols have an effect. I could have made them sensitive to silver, although if I had it would have taken more than an ankle bracelet's worth of chain to keep them down (what were you thinking, Alan Ball?). But, in any event, I saved the silver sensitivity for my werewolves, who don't appear in the vamp stories. I did keep the stake as a killing device, but that's mostly for form. Anything that destroys their heart beyond the ability of the "virus" to heal will kill them. Chopping off of the head will also work, because no living thing (except maybe certain worms) can survive having its head removed. Well, there was that one guy's chicken, but that's just freaky and proves once and for all that chickens have no brains! (Look it up if you're interested - Mike the Headless Chicken.)
Of course, I don't want my vampires to be ordinary, either. And I figure as long as I'm writing about the existence of vampires, I can extend an aspect of magic to the most powerful among them, the ones I call Vampire Lords, the ones the books are really about. Regular vampires live regular lives in my books. They have video stores, they're lawyers and accountants and computer nerds, they even work for the FBI as you'll see in later books. But the Vampire Lords rule the world of Vampire. The weaker, regular vampires are literally dependent upon their lord for the power to continue living, and a Vampire Lord can extinguish any of his subjects' lives with nothing more than a thought. They also rule empires. They've had hundreds of years to accumulate wealth and power, and their personalities as humans were such that when they woke as vampires to discover they have real power, the power of life and death, they use it! Couple that with the aggression and hunter instinct that the "virus" creates in them and you have men and women who will stop at nothing in their drive for power over others, who will sacrifice almost anyone and anything to serve their own ends.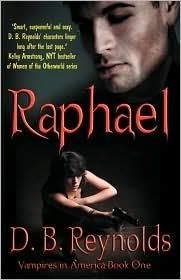 I say almost anyone because the one person my vampires will never sacrifice is their mate. Not even the greedy, asshat vampires will sacrifice a mate. Of course, the truly evil ones, like Jabril, don't have it in them to care enough about anyone to have a mate in the first place. But one of the qualities I love most about my vampires is their total devotion to their mates. We see the most powerful Vampire Lord of all, Raphael, made vulnerable, not by his enemies, but by his love for Cyn. There is nothing he wouldn't sacrifice for her, including his own life. And there's Raj (Rajmund), who fights it every step of the way, but who ultimately has to accept that his life is empty without Sarah. I just love my guys (and my gals, too, now that I have Sophia.)
But you'll also find barefaced aggression and, frankly, bloody violence with my vampires. They don't flinch from what they are and I don't flinch in showing it. They're bloody and brutal and territorial and demanding, and they can be quite cruel. They may live in human society, they may even thrive there, but they're the most powerful creatures on earth and they relish the rush of power just as much as they do the warm rush of blood fresh from the vein.
But don't take my word for it! If you want a taste of my vampires, you can visit my blog at
http://dbreynolds.wordpress.com/
. I post mini-short stories of my characters there, which I call Vampire Vignettes, and right now there are a few deleted scenes from Rajmund. And you can always enter my contest below … maybe you'll win my latest and fourth book, Sophia.
About the Author
D. B. Reynolds is the author of the award-winning Vampires in America series, including Raphael, Jabril, Rajmund and the latest book, Sophia. Her books have garnered high praise from authors Kelley Armstrong and Adrian Phoenix, as well as reviewers and readers alike. Recently, her second book, Jabril, won the 2010 RT Reviewer's Choice Award for Best Paranormal Romance, Indie Press.

DB is also an Emmy-nominated television sound editor and lives with her husband of many years in a flammable canyon near Los Angeles. When she's not writing her own books, she can usually be found reading someone else's.

Visit her at

http://dbreynolds.wordpress.com/

for free stories and more!
D.B. Reynolds is generously offering a copy of either Rajmund or Sophia to one lucky winner! And because she's a seriously wonderful lady, she is willing to ship Internationally so this contest is open to everyone!







-This contest is open Internationally

-To enter fill out this

FORM

-You do not have to be a Follower to enter




Extra Points:

-Be a GFC Follower

-Subscribe via Email




Contest ends June 3, 2011