Hard Day's Knight
Author: John Hartness
Series: Black Knight Chronicles, Book 1
ISBN: 0011980850
Purchase Information:
Amazon
|
Barnes & Noble
|
Smashwords
Children are missing.


The police are stumped.

Halloween is coming, with an ancient evil on the horizon.

The vampires are the good guys.

This is not your ordinary fall weekend in Charlotte, NC. Vampire private detectives Jimmy Black and Greg Knightwood have been hired to keep a young client from being cursed for all eternity, but end up in a bigger mess than they ever imagined.

Suddenly trapped in the middle of a serial kidnapping case, Jimmy and Greg uncover a plot to bring forth an ancient evil into the world, and enlist the help of a police detective, a priest, a witch, a fallen angel and strip club proprietor to save the world. This unlikely band of heroes battles zombies, witches, neuroses and sunburn while cracking jokes and looking for the perfect bag of O-negative.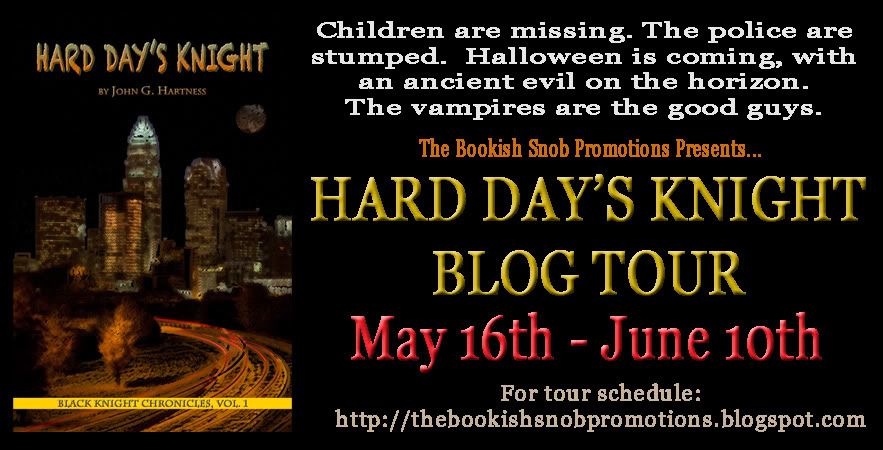 Why self-publish?
by John G. Hartness
This is one of the questions I get asked the most when I talk about my books, "why did you self-publish?" That's right after I answer the "you can publish books yourself?" question. So let's get the ugly truth right out here on the interwebs where everybody can see it.
I self-published because I don't have the patience for a traditional publishing experience.
There, I said it. I didn't choose to self-publish because I had some great misunderstood masterpiece that the world deserved to read and that the clueless publishers in NYC had been depriving everyone of for years. I didn't choose to self-publish because I'd gotten dozens of rejection letters from agents and publishers. I didn't choose to self-publish because I have a fiercely independent spirit and think I can do it better on my own.
Okay, that last bit probably played into things a little bit, too.
But I self-published because I was finished writing a book and thought people would enjoy reading it. So I took the shortest path from my laptop to reader's eyes - self-publishing.
A lot of people don't understand just how long it takes for a book to get from writer to reader. You do, because you're reading a book blog and are obviously a discerning and highly educated person (with great taste - buymybooks - subliminal advertising over). But just in case you've forgotten the timeline, let's take a look at it.
First the writer finishes the book. By this point he's got anywhere from two months to a couple of years invested in it. In my case I took about three months to write the first draft of The Chosen, my first novel. Then I spent another three months editing and rewriting. Then I started submitting queries to agents. I quickly got bored with this process, but for people with attention spans greater than that of a flea, this process can take anywhere from six months to several years. We'll use six months, because that's a fast track from query to signing.
Then the agent starts sending the book out to publishers, a process that again can take anywhere from six months to several years before the book is accepted. If it is accepted. Remember that just because the agent loves a book doesn't mean that a publisher will. So let's take six months because that's a good round number and it makes things easier to count (and I'm a writer, not a mathematician, so easy counting is a plus!).
Then the book goes through editing, cover design, rewrites, more edits, more rewrites, printing, promo (hopefully!) and delivery to bookstores. Figure that's going to take at a minimum nine months. I'm using nine months because in addition to being about the shortest time frame that the process can be completed in, that fits my imaginary timeline very well.
So now, from first draft to seeing a book in stores, that author has waited for two years! That's fourteen in dog years! And in impatient hillbilly years, which is the scale I have to live by, it's like nine hundred years or something!
I finished the first draft of The Chosen, my first novel, in the summer of 2009. I published it in 2010. I wrote and published Hard Day's Knight in 2010. I wrote Back in Black in January of this year and it was available for purchase in February. If I had gone through the traditional publishing process, and gotten accepted at a whirlwind pace, the first book would be coming out sometime this summer.
While I would have had nothing on the shelves in the traditional publishing world, I've sold a couple thousand copies of three novels. I'm not rolling in the dough (yet) by any means, but I've spent the time building a fan base and an online presence instead of asking faceless person after faceless person "Is my book good enough?" like some semi-literate version of Oliver Twist, holding out my keyboard saying "Please, sir, can I write some more?"
So that's why I went the self-publishing route - because I'm impatient with a lot of tendencies towards ADD. So now, if you'll excuse me, I think I saw something bright and shiny over there!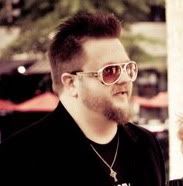 About the Author
John G. Hartness is a recovering theatre geek who likes loud music, fried pickles and cold beer. He's been published or accepted online in several journals including The Dead Mule School of Southern Literature, cc&d, Deuce Coupe and Truckin'.

His first novel, The Chosen, is an urban fantasy about saving the world, snotty archangels, gambling, tattooed street preachers, immortals with family issues, bar brawls and the consequences of our decisions.

He followed up The Chosen with Hard Day's Knight, a new twist on the vampire detective novel and the first in a planned series of at least five books. The second book of The Black Knight Chronicles, Back in Black, landed in March 2011 and has enjoyed immediate success.

John has been called "the Kevin Smith of Charlotte," and fans of Joss Whedon and Jim Butcher should enjoy his snarky slant on the fantasy genre. His next novel, Knight Moves (Black Knight Chronicles Vol. 3) is due out in the summer of 2011.

He can be found online at www.johnhartness.com and spends too much time on Twitter, especially after a few drinks.
You can find John at: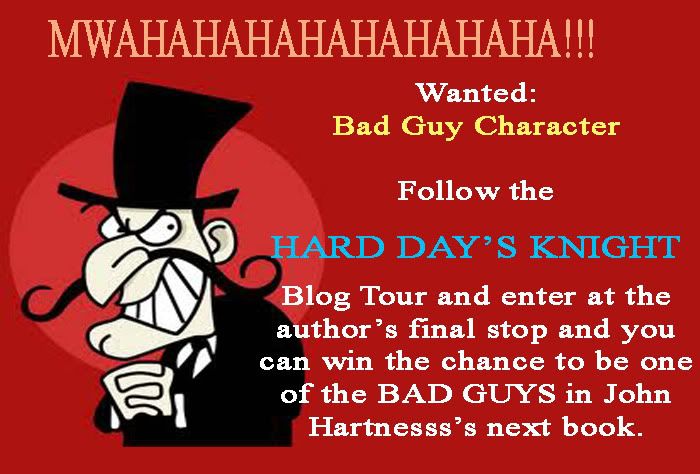 Follow the Hard Day's Knight blog tour for more giveaways, guest posts, reviews and author interviews!
A full list of stops can be found at: