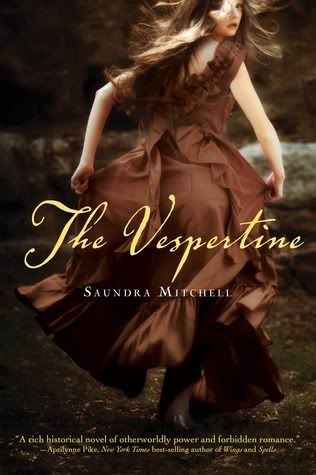 The Vespertine
Author: Saundra Mitchell
Publisher: Harcourt Children's Books
Series: The Vespertine, Book 1
ISBN: 0547482477
Release Date: March 7, 2011
Pre-Order Information:
Amazon | Barnes & Noble | Book Depository
This novel was provided by Julia @
Rex Robot Reviews
for review.
For more information please visit Saundra Mitchell's website.
It's the summer of 1889, and Amelia van den Broek is new to Baltimore and eager to take in all the pleasures the city has to offer. But her gaiety is interrupted by disturbing, dreamlike visions she has only at sunset—visions that offer glimpses of the future. Soon, friends and strangers alike call on Amelia to hear her prophecies. However, a forbidden romance with Nathaniel, an artist, threatens the new life Amelia is building in Baltimore. This enigmatic young man is keeping secrets of his own—still, Amelia finds herself irrepressibly drawn to him.

When one of her darkest visions comes to pass, Amelia's world is thrown into chaos. And those around her begin to wonder if she's not the seer of dark portents, but the cause.
The Vespertine by Saundra Mitchell is the debut in a wonderful new historical paranormal romance series that will easily suck you into a magical tale of a girl who can see the future flaming in the setting of the sun and the boy she loves who mysteriously seems to come and go like a phantom breeze. The flowing prose of this novel are both eloquent and descriptive, perfectly painting the setting in the reader's mind and capturing the lush sophistication and strict formality of the era. Filled with enjoyable characters, an engaging plot and a haunting romance that tugs at the heart, this novel has all the intrigue of youth with a voice that is far more insightful and considerate then character's sixteen years. Simply, this is a can't miss read in 2011!
My Rating: 5 out of 5 Scars