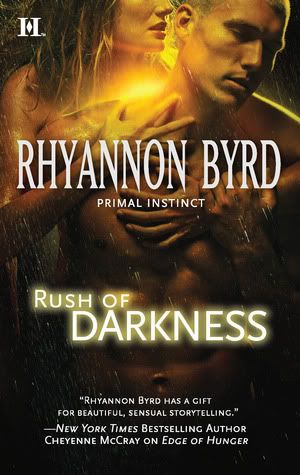 Rush of Darkness
Author: Rhyannon Byrd
Publisher: HQN Books
Series: Primal Instinct, Book 7
ISBN: 037377558X
Release Date: March 29, 2011
Pre-Order Information:
Amazon | Barnes & Noble | Book Depository
*Novel provided by the publisher via NetGalley
For more information please visit Rhyannon Byrd's website.
DESTINED TO BE ENEMIES...

Raine Spenser is on the brink. Held prisoner because of her abilities, Raine—a powerful psychic as well as vampire desperately needed a savior. But the last one she expected was the green-eyed soldier who'd once hunted her kind. Since her rescue, she's tried to forget Seth McConnell, unable to cope with the strange, simmering attraction that draws her to the compelling human.

But their goals—find the Kraven who held Raine captive and destroy him—are the same. The ever-growing web of danger surrounding them draws these two unlikely allies closer together, and anger slowly turns into an explosive passion they're finding harder and harder to deny....
Rush of Darkness
, the seventh novel in Rhyannon Byrd's popular paranormal romance series
Primal Instinct,
is an ensnaring and scalding read full of great emotional appeal, endearing and tortured characters and a thrilling plot that leads the pair on a wonderfully written adventure culminating in an epic battle that leaves you craving more!
This installment of the series follows Raine Spenser and Seth McConnell, characters who were brought together in the previous novel, which I hadn't read, and are both about as tortured and traumatized as can be. Their heart wrenching histories are tragic, creating two broken and lost souls who throw themselves whole heartedly into their respective missions. Coming into this series so late with little to no clue about what was going on, I found this story to be absurdly easy to step into. Byrd's writing style is wonderfully descriptive and insightful thrusting you under the characters' very skins. This can also be said of the world itself with the various plots and factions, from the good guys to the bad. The histories are wonderfully recreated to allow for effortless plot development, so even if this is your first transgression into the
Primal Instinct
series, you are not left behind or confused about anything within the plot of this novel.
The characters are endearing from the first sentence to the last with phenomenal chemistry that had me eagerly anticipating the connection that was to come. Both are completely open, with great emotional appeal that immediately drew me into tho their lives with an almost maddening build up of sexual tension. With tragic pasts that were amazingly revealed I was at times heart broken by the atrocious acts committed against them. Yet, it is this bone deep heart break that binds these characters so irrevocably. Raine, after being kidnapped, raped and brutalized, gives herself over to her underlying guilt over her sisters murder and loses herself in her need for vengeance. Seth, feeling an unexplainable connection to her, seeks her out in order to protect her, even from herself as he is no stranger to the addictive pull of revenge. The immediate chemistry between them is engrossing, the almost constant infighting quickly developing into something more. As both surrender to their desires, the sacrificial love between them grows creating some wonderful moments that I couldn't help but love. Truly, these two create an open, emotionally charged relationship steeped in rich history that can be tender and empathetic, despite or perhaps because of the almost constant verbal antagonism, and turned in to one of the best romances I've had the pleasure of reading.
The amazing writing style was fluid with a great pace filled not only with the alluring romance between the characters, but action as well. With tensions running high and time running out, the ever expanding scope of the novel was also a great attribute, bringing in more and more characters as the final showdown between the Kraven and the Watchmen come to a head leaving some great openings for the next installment.
Overall, this was my first time entering into the
Primal Instinct
world, but it will not be my last. As in love these characters as I am, I will definitely be hunting up the previous novels to find out even more about this addictive and simmering world where passion and action run rampant!
My Rating: 4 out of 5 Scars
Advisory: Some sexual content